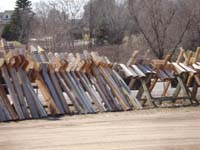 Custom mail box posts
Enhance the curb appeal or create a statement on your block with a new handcrafted mailbox made to order by our own Hamel Handymen, or choose from our large stock of ready to install mailbox styles ranging from Gothic to Contemporary. All mailbox post are constructed in either cedar or green treated and come in single, double or triple box. Custom multi-box systems are
also available to meet your needs.